1.866.572.1107

20.3991.3890

1.800.846.451
Now With Even More Professional Voice Actors to Choose from Than Ever Before. NEVER ANY HIDDEN FEES!
Radio sweepers help listeners identify which radio station they are listening to. This is vital for market research when listeners are asked to recall their favorite radio station during surveys.
Usually sweepers are either a deep male voice, or a soft female voice talent.
Radio programmers and audio production engineers understand the power of a radio sweeper to the stations overall sound.
Liners, sweepers, promos and ID's are just some of the services our voices offer at affordable rates.
If you're looking for powerful voices to take the sound of your station to the next level, look no further than The Voice Realm.
The biggest voices at the best rates.
Contact: info@thevoicerealm.com or visit the Contact page for help casting the perfect voice talent.
Voice Talent for Radio Sweepers
---
---
---
---
---
---
Look for voice talent with the FAST VOICE CASTING icon if you need your recording back in 4 hours or less.

Choose the exact actor you want and get the ball rolling!


All The Voice Realm talent have been hand picked as the best in the business.
---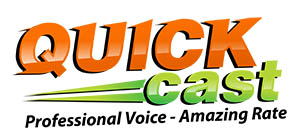 Want to save money?
Try QUICKcast. Rates from just $55. The easiest, quickest and most affordable way to have your script read by a pro!
You will have your recorded script back within a few hours.

Our worldwide support staff watch over your job to ensure everything goes smoothly.