1.866.572.1107

20.3991.3890

1.800.846.451
Now With Even More Professional Voice Actors to Choose from Than Ever Before. NEVER ANY HIDDEN FEES!
Best Microphones for Voice Overs
One of the best investments any voice talent can make is obviously the microphone.
Providing clients with a crisp clear sound is vital for bringing new business and keeping existing clients.
The following is a list of some of the most highly rated microphones currently on the market. But as always the best microphone for your voice may be found through trying them out at your local music store.
For those up and coming voice over talent wanting something semi-professional the Rode NT1-A or Rode NT-1000 are a perfect balance between sound and price. This is the best large diaphragm condenser microphone and you'll be able to find one for under $400.
Once you're and established voice artist and it's time for an upgrade, try the AKG 414 series or Audio Technica 4060, another favorite in the voice over industry is the Sennheiser MK416. It's a shotgun microphone that is directional to capture every sound.
But if you're looking for the mic that the pros use, you can't go past the vintage Neumann U87. This voice over microphone can cost you between $3000-$6000 but is without a doubt the finest mic around.
Buying a microphone should always be looked at as an investment into your career. All professional voice overs agree he quality of sound for the client is the number one factor in return business.
Don't go out and buy the most expensive mic at the beginning of your career until you are established and confident that the work you attain will afford you the ability to pay it off.
Professional Microphone Technique for Voice Talents
---
---
---
---
---
---
Look for voice talent with the FAST VOICE CASTING icon if you need your recording back in 4 hours or less.

Choose the exact actor you want and get the ball rolling!


All The Voice Realm talent have been hand picked as the best in the business.
---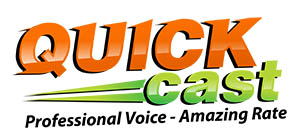 Want to save money?
Try QUICKcast. Rates from just $55. The easiest, quickest and most affordable way to have your script read by a pro!
You will have your recorded script back within a few hours.

Our worldwide support staff watch over your job to ensure everything goes smoothly.