1.866.572.1107

20.3991.3890

1.800.846.451
Now With Even More Professional Voice Actors to Choose from Than Ever Before. NEVER ANY HIDDEN FEES!
Movie Trailer Voice Overs
If you want to add Hollywood flair to your next video production, you need a BIG voice! You need Movie Trailer Voice Over Guy!
No matter your budget, you can now afford the biggest voice talent right here. Traditionally the movie trailer voice talent have been used in promos to generate excitement and suspense for an upcoming release. But over time these male voices have become legend, and are a vital part of any movie the big studios release.
Movie trailer voice over talent however is not just reserved for the males. There's been a recent trend in female voice talent being used in these recordings. It used to be that to hire one of the voices you would need to go through an expensive Hollywood agent.
Now in a world where the internet rules our lives, and Amazon has made the cost of buying electrical equipment and movies on DVD a whole lot cheaper, the cost for a male move voice actor is nowhere as expensive as you might think!
Producers step forward and take a leap into the realm that is within your budget. Search for movie trailer voice actors here at The Voice Realm and be amazed at how big they can make you sound.
Contact: info@thevoicerealm.com or visit the Contact page for help casting the perfect voice talent.
Look for voice talent with the FAST VOICE CASTING icon if you need your recording back in 4 hours or less.

Choose the exact actor you want and get the ball rolling!


All The Voice Realm talent have been hand picked as the best in the business.
---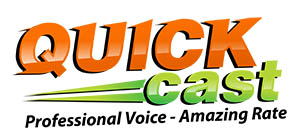 Want to save money?
Try QUICKcast. Rates from just $55. The easiest, quickest and most affordable way to have your script read by a pro!
You will have your recorded script back within a few hours.

Our worldwide support staff watch over your job to ensure everything goes smoothly.