1.866.572.1107

20.3991.3890

1.800.846.451
Now With Even More Professional Voice Actors to Choose from Than Ever Before. NEVER ANY HIDDEN FEES!
Radio Commercial Voice Over Talent
Radio is one of the oldest mass communication mediums. It's a great way to get your message out to hundreds of thousands, even millions, of commercial radio listeners. Voice overs are an integral part of the process of creating a professional sounding broadcast.
A listener can easily and mostly subconsciously tell the difference in a low budget or national radio broadcast just by the sound of the voice overs used in radio commercials. Commercials or spots as they are known in the industry mostly either 15, 30, 45 or 60 seconds.
There is either one main voice known as the announcer or numerous voices or characters throughout radio commercials. Dependant on where the radio commercial will air, how long the script is, and for how many months it will run, determines the voice over rates that will be charged.
As most radio campaigns can run into the tens of thousands of dollars in buying airtime on the radio stations, the professional voice over rate is actually a very small percentage of the entire campaign. Here at The Voice Realm, all of our talent record radio commercials regularly for national and international clients.
If you're looking for recognizable voice talent that can bring a professional sound to your radio commercial, look no further. Check out the VOICE GALLERY for male and female voices.
Contact: info@thevoicerealm.com or visit the Contact page for help casting the perfect voice talent.
Radio Broadcast Voice Talent
---
---
---
---
---
---
Look for voice talent with the FAST VOICE CASTING icon if you need your recording back in 4 hours or less.

Choose the exact actor you want and get the ball rolling!


All The Voice Realm talent have been hand picked as the best in the business.
---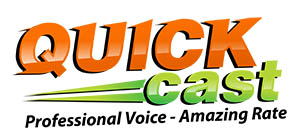 Want to save money?
Try QUICKcast. Rates from just $55. The easiest, quickest and most affordable way to have your script read by a pro!
You will have your recorded script back within a few hours.

Our worldwide support staff watch over your job to ensure everything goes smoothly.