Why Hire a Professional Voice Actor for Your Business?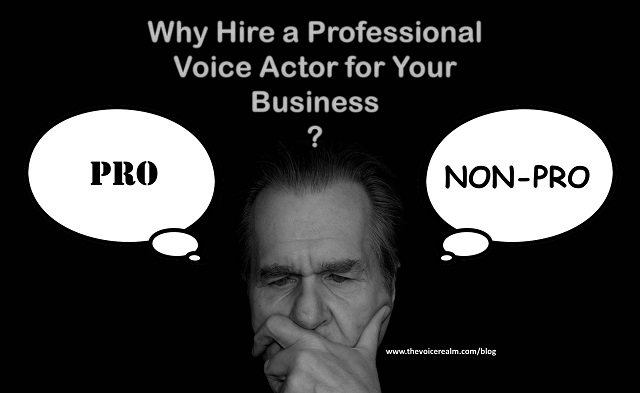 As more and more people are getting wired and connected online, we see the increasing switch from paper advertising or marketing to audio and visual marketing.  People are moving away from reading flyers, brochures, or sifting through the yellow pages, and focusing their attention to what they see and hear.
For a business to stay on top of their industry, they need to invest on developing and maintaining their online presence and provide their target audience the content that would attract their attention.
Case in point is the increasing popularity of explainer videos.  As shared by Voice Over Herald, the use of explainer video helps improve several aspects of the business.
Improves SEO of the company. Explainer videos has more chances of being found on search engine thus improving online visibility.
Improve Conversion rates. Explainer videos placed on the home page can turn more visitors to customers up to 65%.
Decrease Bounce rate. The average time spent by a visitor on a website increases from the initial average of 8 seconds to 2 minutes if the site has an embedded explainer video
Increase in the Click-through rate. Marketing emails with video content are more likely to be opened.
Increase in ROI. Marketing professionals attest to an increase ROI when marketing videos are used as online content.
As much as video content is important (whether animated or live action) in getting the attention of the consumers, the quality of audio content is just as crucial. There is much power and effectiveness to be had when using audio whether in conjunction with a video or as a standalone medium. The operative word is POWER and EFFECTIVENESS, and this can only be delivered by a professional voiceover actor.
---
Imagine your business taking the alternate route of employing an amateur voice actor or even one of your team members to be the voice of your campaign.
John happens to have a great voice… he sounds very friendly and fun. Perfect for the image you wish your company to project.  However, once you got to listen to his recording, you noticed the following:
Very audible breathing, especially in between sentences
A loud "poof" sound is heard when he pronounce the letter P
Hissing sound when he pronounces words with S
He stumbles and hesitates on long words
His tone is friendly but not natural… you can sense he was reading from a script (plus the obvious rustling paper)
Slight echo of the voice, and some "office" noise
And when he delivers his closing line, he has lost all enthusiasm
The end result is a not very professional sound, hence not a very professional impression of your business. Once your clients hear it, they would feel the same way and then walk away straight to your competitor.
---
It is important to never settle for an inexperienced voice, no matter how great they sound, as it will jeopardise your campaign.  Sounding great is one thing, but being a voiceover is another.  A trained, professional voiceover artist would have working knowledge of the vocal's basic components – firmness, tone, tempo, volume, and pitch. A professional voiceover actor too would be aware of the different projections, styles and approach that would be appropriate for your project.
Television Commercials / Radio Commercials
For commercials, business requires a professional and persuasive speaker.  Whether you require a boy-next-door type, soccer mom, sexy vamp, movie trailer style, the right voiceover actor who fits your requirements will be able to deliver a natural read. They are aware of the dynamics needed for commercials that can help project the message across to your audience.
Web Presentations / Explainer Video
With the right script, a professional voice actor can ensure that narration is perfectly done, lively and engaging, keeping the viewers glued to your video from start to finish.
Long-Form Narration
Long-form narration is one of the hardest form of campaign as the speaker requires the right skills to keep the listeners interested. When done by an untrained talent, consistency in keeping the interest will be difficult. Apart from the consistency in the voice, enunciation and clarity is also imperative for narration. A professional voice would be able to deliver all those.
Voice Mail / IVR
The right tone and pacing on IVR, voicemail and on-hold greeting is imperative so as not to sound robotic or disinterested.  Even in this medium, the voice should reflect the personality of your business. A professional voiceover can keep your clients and prospects engaged.  They can encourage callers to stay on the line and also deliver a quality and professional marketing message.
---
There are many reasons why a business serious in starting and keeping their audio and visual presence online should hire only a professional voiceover talent.  To sum it up:
Vocal and Communications Skills
To have a great quality read it requires great communication skills – good knowledge of grammar, perfect enunciation and ability to read words clearly and with proper phrasing. It should also have the type of voice that is pleasant to your target listeners. A professional voice artist has all these qualities and understands the dynamics and components of sound and voice.
Technical Skills
A professional voice talent will only record using high-quality recording equipment to produce clear and noise-free recording. An experienced or professional voice talent would either own a home recording studio or have access to one.  They may also either have working knowledge in editing or sound engineering or works closely with an expert.  They know how to use their microphone and other tools to deliver a clean, clear, quality sound.
Information retention
A research showed that listeners are more likely to retain information when delivered by a professional voice talent. This is because a professional voiceover talent will not just read off from a script.  They study what needs to be conveyed so that they can deliver your message correctly.
These qualities put together would mean creating a very POWERFUL and EFFECTIVE message for your audience. A professional voiceover actor knows that this is your end goal and can work along with you to deliver the results.
Hiring a professional voiceover need not to be exclusive for big companies. Small or start-up businesses too can join the audio and visual trend by using voiceover platforms that can offer them reasonable rates and be assured of the services of experienced, professional talents. One such company is The Voice Realm.  The Voice Realm has a "professional only" roster that can provide voice seekers with professionally recorded voice in a style and format that fits the company's campaign.