International Voice with ipDTL connectivity - over 25 years' experience. Producers/Clients say excellent "NEUTRAL" delivery.

Warm, rich, smooth, soft, deep, hard, resonant, authoritative, corporate and cool.

Often required to voice diversely - sarcasm, compassion, intense, cynical, quirky, empathetic and blunt are but a few styles available...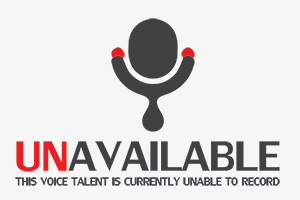 This voice is currently unavailable to record but has indicated they will return on Monday 31st October 2016.
You can still hire them, but they won't be able to return your audio to you until this day.
Skills and Extra Services