A Literature Classic Voice Over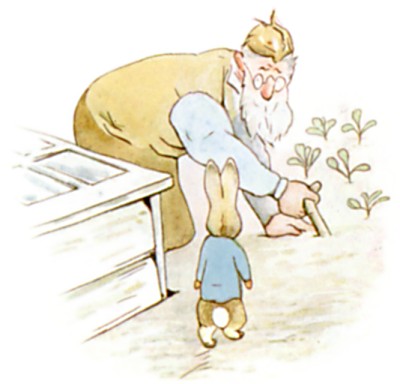 The Tale of Peter Rabbit was written by Helen Beatrix Potter, an English writer and illustrator, for Noel Moore, a five year old boy who was also the son of Ms. Potter's governess in 1893. The Tale of Peter Rabbit is about a young mischievous and disobedient rabbit chased around the garden by the garden owner Mr. McGregor. He manages to escape becoming rabbit stew and goes home to his mother who puts him to bed. The book was sent to publishers but after several rejections was revised and printed in private by the author herself in 1901. But in 1902, Frederick Warne & Co printed the book in a trade edition and was a success that multiple reprints were ordered. The books is now being sold in 36 languages and is one of the best selling books of all time with 45 million copies sold.
Sony Pictures seems to have been bitten by the classic bug. It's being said that they have decided to reach into literary history and decided to make a film based on The Tale of Peter Rabbit, to be directed by Will Gluck. They have decided to adapt Beatrix Potter's classic character Peter Rabbit in new live-action and computer generated hybrid film. It's also said that there will be a modern vibe to the film with Peter Rabbit having a bit of the nuances of today's young as looking a bit of a 'cool' character.
Since it's an animation film, we wondered who's going to do the voice over character reads. Here's who we got:
Peter Rabbit will be voiced by James Corden British voice over actor and actor from The Late Late Show with James Corden and who also did a voiceover for Into The Woods and Trolls.
Domhnall Gleeson has been handed the voiceover role for the character of Mr. McGregor. Gleeson is also the voice behind General Hux in Star Wars:Episode VIII. He was also Bill Weasley in Harry Potter and the Escape from Gringotts.
Additional characters have been cast with female voice actors Margot Robbie, Daisy Ridley and Elizabeth Debicki although it is still unidentified which characters in the story they will be lending their voices to.
An added twist to the movie is a human character named Bea who was nowhere mentioned in the book. Given the name though, it is surmised that the character might be a representation of the author. Bea will be voiced by Australian female voice artist Rose Byrne.
While classic literature turned film is not the trend and not what audiences today clamor for, it will be interesting to see Peter Rabbit on screen. The film is set to hit theaters on April 2018.