English Voice Actor Kieran Phoenix Chantrey, Living the Voice Over Dream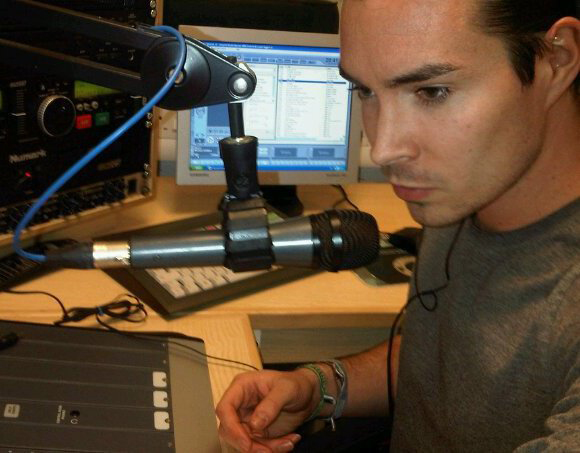 As a kid, he had a knack for doing voices and he mimicked his teachers to get a laugh out of his classmates. As an adult, he didn't quite shake off that habit and he mimicked his bosses and colleagues while working as an IT Guy in a TV studio. Just when he thought he might get the boot after the in-house producers heard him copying the bosses, he got a life-changing break instead.
Kieran was asked to do a few voice characters for a game channel the studio was due to launch and from then on he was hooked!
Here's Kieran to tell you more about his life as a voice over artist and living in the beautiful island of Bali.
Voice over workshops and training
I did do a few day courses when starting out to really get a good understanding of the industry, and asked as many questions as possible to bring me to the next step. For all the newcomers to the business, investing in the right course is a very good idea. You come away not only with great ideas but you can meet some great contacts s well. It's very important you do your research on the industry first. Buy books, research online on the types of voice over work and how it works. The next step is to find your strength. Workout what types of voice overs you can comfortably and professionally perform. Then you need to focus on putting a strong, professional demo together. Once you demo is complete the key step which you then will continue to do throughout your career, is to market yourself. Team up with great online portals like The Voice Realm, and perhaps find an agent and make calls promoting your services.
Coming from an IT background and working in a TV studio made a big difference.
I feel I started a few steps ahead! With my IT experience, I found learning the engineering skills and the software made sense much more quickly. I found setting up my studio, dealing with engineering problems and learning how to use the recording software so much easier as I already have experience with these things. I could teach myself and fine tune my skills without having to spend time and money on being taught. With my background in the TV Studio, having watched day in day out directors direct commercials/promos/scenes etc., and see the common reasons why actors or actresses didn't nail the takes, I could then put myself in the director's position when recording on my own and listen back with that critical ear to spot what needs changing for the next take. Luckily my experience gave me a great head start combined with my skill of doing character voices.
Online voice over platforms and The Voice Realm
Living in Indonesia currently, I've had a great chance to listen to how they do it in these parts of the globe. The good news is they do use voice overs for their Radio Stations, TV Stations, Online portals etc., however the use for a British Voice Over is rather minimal. They tend to have voice overs who speak the Indonesian Language. That said, there is a great Expat community out here in Bali and a growing number of English speaking people, so more and more of these portals have English versions of their advertisements etc. There is possibly hope, but right now, all my work is online from the European markets and American market.
I am a member of quite a few free online platforms and a real true paid member to a smaller number. I like online platforms as it's an up to date way for clients to find the right talent, rather than the old system of finding agents, making lots of telephone calls etc. With many voice overs now setting up their own home studios, it helps bridge the gap for clients and artists. Online platforms can also make it very easy for both the client and the artist to work together on a tight timescale.
But I think what can be improved with these sites is having a smaller number of artists on the site who are very talented and reliable, rather than having a mixed bag. From the artist's point of view, if they are auditioning and up against 25 other voices or more, they feel "What's the point? Will I even be heard?", so it is better to have a smaller number of great quality talents than having the quantity. From the client's point of view, if they hire a voice who has an average skillset and doesn't delivery as well as others on the site, could possibly put long term clients off as they'll think all voices on the site are at that skillset.
I have had a brilliant experience so far with The Voice Realm!!! I can't stress this enough! Great platform, which is easy to use, fair system and the support from the wonderful staff makes dealing with The Voice Realm a real pleasure. I have been very lucky to get a good amount of work from auditioning through The Voice Realm and can say I am proud to be part of their voiceover talent. It's great to see the company grow and work with people who make you feel part of the team!
The importance of customer service
Customer service is very important! I've dealt with other online platforms who are robotic, careless and don't seem to be interested in giving good customer service and only concerned about their annual subscription. When coming across online platforms who have this approach, I instantly think "If I do a job via their portal and their client decides to disappear without making a payment, will they provide support? Or am I on my own?" I find I am put off and wouldn't give that portal much of my time. When I am faced with good customer service, it inspires me to work further with that online portal in delivering the best service I can.
My most memorable project so far
I would have to say my second professional job stands out for me, simply because I'd just signed up with my first agent, and I was all pumped on getting a big gig and lo an behold, Disney heard my freshly made demo an decided to hire me! Working for the Disney XD channel was a great and fun experience. A job which helped me progress when I was starting out and gave me great confidence in my abilities.
Living in Bali and doing what I love!
My typical day consists of waking up, going out to a nice little cafe either by the beach or overlooking the views of a beautiful rice field, getting a nice tasty breakfast and drink, whilst catching up on emails an auditions. My next move is to go home to my studio warm up and record a number of auditions or jobs which have come through overnight. Once I am all caught up, I'll take time to market myself to keep work coming in. Perhaps depending on the day, either meet up with a few friends for some lunch, or go for a massage or if it's a very hot day, chill out by the beach. On evenings, I'll either continue to work on marketing myself, work on updating demos or record new jobs. Dinner time I'll meet up with more friends in a nice restaurant unwind with a Soda Water, Lime an lots of Ice, enjoy the evening and repeat the next day.
I love the fact I can put my madness into a profession which pays my bills! It's an unusual job which never seems to get mundane or boring. Every project can be different and you have great freedom to stretch your creative muscle and create some really awesome projects. Listening or watching back projects I have collaborated on is a great feeling. Seeing my input has made a great impact to a business, charity, or fun project is very rewarding. Also working as a voice actor gives me great freedom to work anywhere in the world!
Biggest lesson I have learned so far about the voice over industry
The biggest lesson I have learned about the voice over industry is that it can be a very fun and interesting job to have, but in order to survive and continue to do what you love, you must stay current, continue to work hard, and make good long-term partnerships. Listen and learn as often as possible and keep your voice well looked after.
---
As they say, when you find work you truly love it wouldn't feel like work at all. Working as a voice over enabled Kieran to work from his studio out in a beautiful Bali Indonesia, and still work with clients all across the world. "One minute I am in my studio voicing a commercial or website explainer video, the next minute I am catching a speed boat to a neighbouring island for some relaxing drinks on a tropical Island!"
So when you've been bitten by the voice over bug, Kieran advises, "When you get your first gig and you feel nervous, channel your nerves into fun. Have a good time and enjoy your new job!"
Check out Kieran's profile and listen to more of his work at thevoicerealm.co.uk