TVR's Top Female American Voice Actor – Audrey Bentham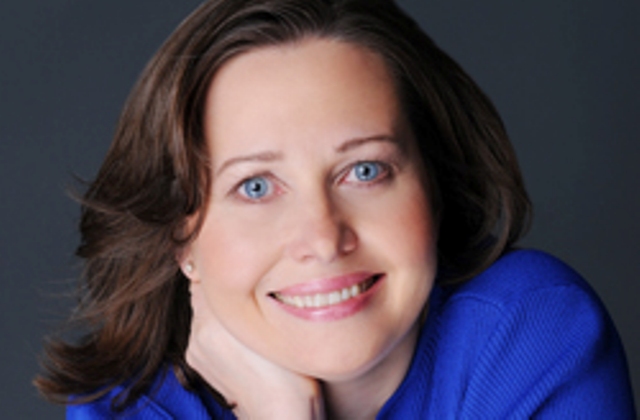 To say that Audrey Bentham is one of the top Female American Voice Talents in The Voice Realm family is an understatement.  Audrey holds a record breaking seven bookings in one day!  This is definitely a true testament that Audrey is a talented voice artist.  But more than having a beautiful tone and voice, Audrey is packed with skills and insight that makes her a much sought after professional voice artist.
TVR had a chat with Audrey to learn more about this talented voice artist…
TVR :  Hi Audrey!  To start off, we would love to know how you started in the industry. Has this always been your career, or did you have a previous day job?
Audrey:   When I was little my mother co-hosted a Lithuanian language radio program on WEVD in NY.  (The Station That Speaks Your Language, as it was called back then.)  I was fascinated by hearing her voice coming out of our kitchen radio.  I later double majored in classical piano and Audio Engineering in college, which led to my current day job as Audio Engineer for NPR.   I eventually dipped my toes into the VO waters by voicing station announcements and movie promos for our sister TV station, and my voiceover career grew from there.
TVR :  In your career in the VO industry, was there anyone you look up to as a mentor?  What is the invaluable lesson you have learned from your mentor?
Audrey:   I've worked with several voiceover and business coaches over the years, but I would credit LA based coach Nancy Wolfson with getting me over the hump in becoming a professional voice artist.   She is known as the Tough Love Voiceover Coach, and her coursework is not for the faint of heart.  The invaluable lesson she taught me was to analyze the script before opening my mouth.  Several months of working with Nancy on the phone, along with my musical training, has informed my approach to any script that comes my way, whether it's a commercial, or a dry, technical e-learning script.  I look at each script as a mini musical score.  I use variations in pitch, tempo, tone, breath, and timing to help express what is being communicated in the words of the script.
TVR :  Listening to your demo reel, you really have such a great voice; you have lovely tone and it is very clear.  Is this something you always have, a natural talent?  What steps have you done to improve or develop your voice, if any?
Audrey:   Thank you for that lovely compliment.  I have found that most people's voices evolve over time.  I can listen to things I've voiced a few years ago, and instantly hear how I could improve on it now, because my ears have become sharper, or I've since learned a new trick or technique.  I don't think that having a pretty voice is enough to compete in the current marketplace.  It takes years of study and practice to be able to voice a script properly, not to mention doing so under the pressure of a live recording session with a director and clients tweaking your delivery, and expecting you to instantly match the sound they are imagining in their heads.
TVR :  With that being said, there is hope for someone who has a squeaky or husky voice to aspire as voiceover talent.
Audrey:   There are so many different niches in the voiceover world, including video games and animation.  Whatever makes your voice unique is a benefit to you, because nobody else can sound exactly like you.  You might be exactly what the voice seeker is looking for.
TVR :  Going back to your voice…how do you take care of your voice? Is there anything you do to prepare your voice/throat before you record?
Nothing special, other than common sense – no smoking, good nutrition, and drinking lots of water.
TVR :  What other specials skills and talents do you have that may have contributed to your success as a voiceover?
Audrey:   I make a living as an audio engineer specializing in live radio, so I can troubleshoot equipment breakdowns and diagnose sound problems.  Since most of the auditions and projects I do are done from home, being able to record broadcast quality audio sometimes gives me an edge over another talent whose audition may be recorded too low, or have excessive noise on it.  I'm also a very fast editor, which gives me a great head start in completing long
e-learning projects, and enables me to easily add music and sound effects if that's what the client needs.  I'm also pretty compulsive about pronouncing things correctly.
TVR :  How's your experience so far with The Voice Realm?
Audrey:   What I really like about The Voice Realm, is not having to negotiate rates with the clients.   In the past I've participated with various Pay to Play sites, and I think the business model of jobs being awarded to the lowest bidder has really degraded the value of the work that voice artists do.  The Voice Realm gives me the opportunity to audition and work with high quality clients and I much prefer paying a commission for the jobs I'm awarded.  I think it's a fair system.
TVR :  You hold the record for the most bookings in one day in TVR… I'm pretty sure too that you have more days like that.  How do you manage your time; what's your typical working day like?
Audrey:   Getting booked for a bunch of voiceover jobs in one day is always a good problem to have.  I have a custom built voice booth in my basement, so I have my own place to work 24 hours a day.  Being able to do voiceover as a freelancer has enabled me to send my daughter to a great private school, and so I'm grateful for every job that I get.  I'm also the type of person who likes the stability of a day job, so I'm never annoyed about having to put in a few extra hours at home.
TVR :  Finally Audrey, any tips you would like to share with aspiring voiceover artist?
Audrey:   The community of Voice Artists is an unusually generous and helpful group of people.  There are many sources of free inspiration, lessons, and business guidance out there, in spite of the fact that this is a very competitive line of work.  In order to be successful, I think you must always be looking for ways to improve your game, hone your skills, and keep motivated on doing what's needed to grow your business.  Read the good blogs, join the many wonderful pro voiceover groups, and work a good coach who will help you reach the next level.  Be a nice person, and be easy to do business with.
With her almost two decades experience as a voice artist and even longer as an audio engineer, makes Audrey a true expert in sound and voice.  Audrey's desire to continuously learn – improve, develop and evolve in the industry speaks loudly of her passion for her craft.  Her drive and sense of accomplishment in every voiceover project she takes on is truly inspiring. "I love having it as a creative outlet. Creating sound from words on paper makes me feel like I've accomplished something."  We are excited to hear what new things Audrey will try next!
If you wish to listen to Audrey's demo reel, request for a free audition or hire her directly, just visit her profile at The Voice Realm.