Voice Over Work is a Breeze for Serena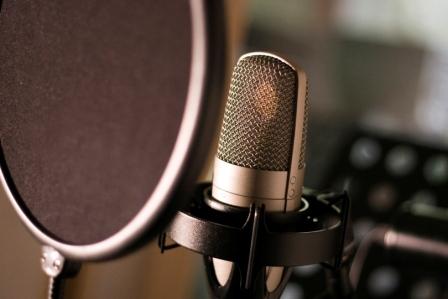 Serena Gay is a British voice actor making strides with her online voice over work, continuing to go from strength to strength. She recently joined The Voice Realm and has booked two jobs in her first week.
We caught up with her to find out about her past and her journey to where she is today.
How did you break into voice acting?
With embarrassing ease. I trained as a BBC radio journalist and took to news bulletin reading like a duck to water. Then my husband and I moved to Berlin where we lived for the next 20 years. I was soon working (in English) for the German equivalent of the BBC World Service/Voice of America called Deutsche Welle. I presented TV news live on air and voiced literally thousands of films, documentaries, features and trailers. I was also Deutsche Welle English Radio Service's Station Voice.  Parallel to all this, there was quite a demand in Berlin for native English speaking professional voices to narrate all manner of things (museum audio tours, cartoon voices, lip synching, corporate work etc) but the pool of available talent, though first rate, was small. So developing my voice acting skills was a cinch – the work poured in and I was in clover.
All good but then we returned to the UK and I decided to relaunch myself as a voice over artist. With no contacts and a track record mainly forged abroad, I am sort of starting from scratch although I still do work for my lovely German clients. Which is where you helpful people at The Voice Realm come in!
Tell us about your home recording studio?
I call it my "woman cave". A small corner of our house which is akin to a padded cell! But it works brilliantly and being at the centre of an Edwardian building, is well insulated from external noise. My mic is a Rode NT1A which I am pretty pleased with; I use a Focusrite interface and plug it directly into my laptop – a Lenovo ThinkPad SSD which is incredibly quiet. The cooling fan is almost silent – a wonderful piece of equipment.
You recently joined The Voice Realm, what has been your experience with the site?
Excellent. It has produced much more work for me than my membership of another, ehem, considerably more costly pay to play site!  The Voice Realm makes lightning quick responses to my emails and provides real work opportunities from serious clients.  It feels like a home from home for grown up voice talent.
Would you recommend the casting site to others?
Yes, I would. But only to those of my friends who are professional VOAs. I appreciate the high bar you place for entry into The Voice Realm. After all, I am someone who has a great deal of recording and audio editing experience and it is good to be in a place that values this. Clearly, your clients do too and presumably they come to you knowing they won't be wasting time with amateurs.
How do you deal with difficult clients?
Oh, charm and patience! But also with a tinge of businesslike efficiency. I used to run a successful sightseeing tour business in Berlin with my husband.  Actually, he managed the whole shebang but I was most certainly involved. This taught me first and foremost that the client is King/Queen. Full stop. But very occasionally, in the face of unreasonable demands, you have to stand your ground – politely, of course.
What do you think are going to be the biggest changes seen in the voice over industry in the next few years?
Until recently, someone else employed me to use my voice full-time. But this kind of employment arrangement won't last. I think it is fair to assume that the future lies in the sort of model The Voice Realm embodies. Serious clients will know (already do, no doubt) where to go for the best voices in the industry at competitive prices. VOAs like me will equip themselves with a cross section of skills in order to do far more than merely voice the work. Oh yes, and sound proofed booths will become dirt cheap and planes will cease to fly over our houses on command! I wish…..
Are you aggressive in marketing yourself, or do you prefer to let your auditions and demos sell themself?
Hell no, nothing sells itself – I totally believe in aggressive marketing but may not be brilliant at it myself just yet. I am getting there though. I am about to book some one-to-one time with a website expert to improve my showing there. I would also really appreciate a course designed to specifically help plan a voice over marketing plan. There seems to be a dearth of good courses for VOAs in the UK whereas in America….
I love to write and am seriously contemplating launching a blog – about the trials and tribulations of starting afresh albeit in the same career. Do you think I'd get any followers?! Anyway, am delighted to be a part of The Voice Realm and wish it the best of luck in establishing total dominance over the Voice Over Universe!