Behind our Voice Actors: Alfonso Sales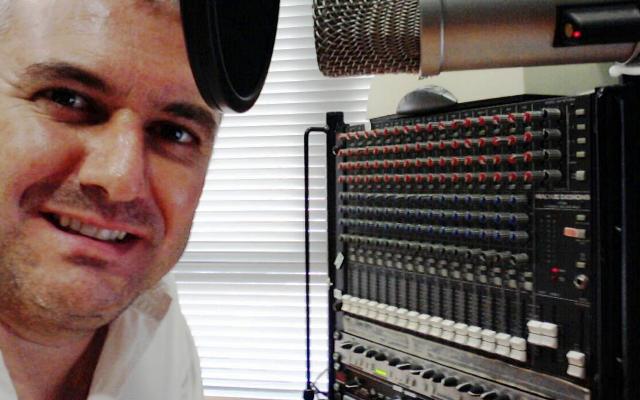 Alfonso has been a voice actor for over 20 years.   He is a native European Spanish voiceover talent who has done a lot of international work.  Alfonso is very passionate about his work and despite having all the experience, he believes in continuously learning and improving.   Learn more about Alfonso Sales and his love for his craft.
We would love to know when and how did you discover you had the talent in voice acting? How did your career start?
I worked as a music composer and programmer for a theater company that does shows across Spain.  In 1992 I set up my own recording studio in order to have more stability in my work and so that I won't need to travel as much.  Radio was one of my passions and I would record in cassette tapes all the commercials that I would hear from the radio to study them.   I even investigate where the commercials were recorded.  Back in those days, there weren't many dedicated voice recording studios in my area so having my own studio was an advantage.  That's where I began my career, recording commercials for radio.   Then eventually worked on doing explanatory videos, e-learning, documentaries, video games, audio books, etc…
Do you have a mentor in the industry?  What is the most invaluable lesson you have learned from your mentor?
Not as a voice talent, but more as an entrepreneur.  They taught me to how to be innovative in the industry.  I learned that you should always offer a great, quick and distinctive service to your customers along with having positive attitude.  This mindset continues to help me improve every day in my craft.
What are some struggles you have faced as a voice over artist?  How did you overcome them?
It is learning to improve my sound with whatever resources I can find, as internet and Google did not exist back when I was starting.   Over the years I learned to be patient with my voice and to be myself, avoiding imitating other "fat" voices.  I became happier with my sound as I saw myself break into the international scene, recording for many countries around the world and also for well known companies.
What's your typical day like as a voiceover artist?
I start my day reviewing and answering e-mails.  Then do auditions if there is anything interesting.  Then I work on the voice projects I have in process.  It's nice to be accompanied by a cup of tea or fruit infusion.  I spend the rest of the day improving in my craft… improving my presence in the voiceover industry or learning more about the technology.   I also enjoy working as voiceover producer and stadium announcer for my team: Villarreal Football Club, in the Spanish First Category.  Despite being busy, I always take a break to give a hug to my kids when they arrive home from school.
Being a native Spanish speaker, what do you think is your advantage over a bilingual artist who only learned the language but did not grow up speaking it?
There is an absolute difference.  Working with a native artist, you can be sure that the accent or intonation is correct and natural.  A native speaker can help you review and improving the script if there is any mistake and also suggest the better words.
How has the voiceover marketplace like The Voice Realm helped you in marketing your work internationally as a native speaker?
They helped me with more presence in order to develop an international career. With The Voice Realm in particular, there is not only presence, but professional, and there is more personal contact, also promoting talents like me.  This is a substantial difference and I appreciate it a lot. So…thanks my friends of The Voice Realm!
Would you care to share with us your latest project?
One of my latest projects is an audio book about a golf challenge — "Dream On."  It's a real story of personal achievement.  I really enjoy interpreting the story as narrator and protagonist John Richardson.  I also love that I do some character voicing in the audio book.  I have other international voice projects with: Vodafone, MoneyGram, Amazon, HP, Apple, Intel, Volkswagen… along with other lesser known brands.  But regardless of what brand, the passion I give in my work is the same.
What do you enjoy the most about the industry?
I enjoy recording from home and working with clients all over the world.  I always do the best in order to have a satisfied customer wherever they are.  I love to surprise by exceeding their expectations and delivering a great job on time, all the time.  I do everything I can to make their jobs easier.
How's your experience so far with The Voice Realm?
My experience with The Voice Realm is awesome!  Every work I receive from them is a good one.  I can concentrate on the doing the best work knowing that the customer has already selected me without the need to audition or waste time.  It is not a site for amateur voiceover talents… great for professionals, with reasonable quotes for both, customers and voice talents.
With the technology now, competition has become global and not just within your city or country. What have you done to keep up with the change and be on top of your game?
The technology now has given me the opportunity to have an international career. What I have done is just focus on giving great service to the client.  There maybe a lot of competition in low segments, but in the high level market there are interesting opportunities… and the world is very big. You just always do your very best to stay on top of the competition.
What do you recommend?  Setting up a home studio or using a commercial recording facility?
I have access to both, but would definitely recommend investing in your own studio.  Not only on technical equipment but in acoustic treatment as that makes the difference between an amateur and professional recording.
Lastly, what advice can you give to a budding voice over artist?
Have a strong commitment and passion for your work.  Every voice is different, so don't try to imitate others.  Be yourself but try to learn the best from the top talents.  Really, doing voiceovers is not an easy job to do, but it is very rewarding job.  Be consistent and patient!   Have an "always learning" attitude.