Emmy Award Winning Producer and Voice Over Actor Paul Nixon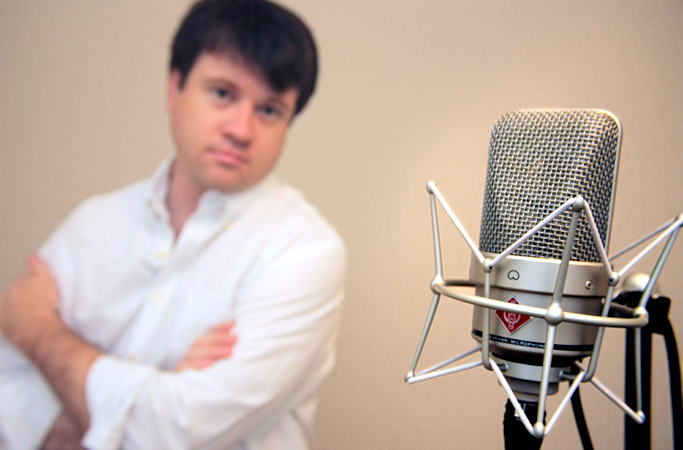 Austin voice over talent Paul Nixon has been the voice of hundreds of stories – from broadcast to explainer videos, E-learning presentations, promos and documentaries. Paul has been heard all around the globe – from Las Vegas to New Mexico, New Zealand, United Arab Emirates, and even across the pond, the United Kingdom.
The versatile talent also has the ear of a seasoned producer. Working from his home studio he can create high-impact audio productions that can rival the quality of brick and mortar studios.
The Voice Realm had a chat with Paul about his experience winning the Emmy's and his life and lessons to share as a voice over artist.
And the Emmy goes to…
Paul Nixon!
"Though it doesn't have anything to do with voice over I am still quite proud of it. I was a Promotions Producer at the time for KOAT, Action 7 News in Albuquerque, New Mexico. Without going into a lot of detail, we had an exclusive interview in a very tragic and violent crime that the whole state was following. Using nothing more than a few very short soundbites, I managed to tell the story of this crime from the victim's family's point of view. It was very simple, yet very powerful – and that won me an Emmy for Promotional Spot. The reporter also won an Emmy for her piece. But if I ever have to give an Emmy speech, I have at least got one practice run down."
Career highlights and dream projects…
The Emmy win may be one of top highlights of his career, but Paul's most memorable project so far…
"Years ago, when I was living in Las Vegas, I got to let loose on a spot for the Las Vegas Valley Humane Society. It was fun and I did it in one take. The producer said that take was exactly what he wanted and didn't need another go. Even the timing was right!"
Paul's voice coach once told him he has the chops to substitute for Will Lyman on Frontline. Taking that compliment to heart, Paul dreams of landing a documentary project that airs on PBS or BBC. He shares, "Nothing in particular, just something with dignity and importance."
Wise words from a seasoned talent…
We talk a lot about finding your niche and focusing on one genre but Paul shares, "Even though it's comfortable to focus on and master a specific genre, I believe you can really find out how to improve your talents if you stretch yourself and work on a variety of styles. Plus, it's a lot more fun!"
Part of his versatile career is working on explainer videos and creating voice characters. When asked what his inspiration in creating his character voices Paul shares, "I cheated, cheated, cheated. In my younger days, my best friend and I would spend hours creating our own obscure oddballs, with back stories, names, voices, and silly narratives, usually inspired by Monty Python sketches.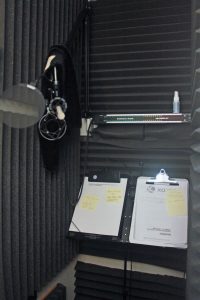 "I would just resurrect many of those voices in some of my characters. I would also co-opt some of my favorite cartoon characters with a little variation. And, honestly, I spent a lot of time by myself with nothing more than a microphone and a cassette recorder. What else are you going to do as a nerdy kid in a small town?"
And for the budding voice over artists who want to start a career in explainer videos, his advice is, "Breathe. Pace yourself. Sometimes these things can get really long and dry. But it's your interpretation that can really bring an otherwise (and often) unexciting subject to life through your inflection.
"Always remember that the words you're speaking are the most important words in the world to your client, so make sure you bring them to life with the excitement that your client deserves. And always read the client's instructions at least two or three times so you understand what they want to hear.
"Even with instructions, don't be afraid to ask your client what they want to hear and how your read should come across: authoritative? Natural? Like a car ad? The more time you invest in getting your client's input will mean a happier client, and, often, a repeat client!"

Shhh…. Paul is about to share a secret…
 "It's hard for me to focus on just one equipment that I can swear by. You have to have a good microphone (My not-so-secret vice – I ogle mic catalogues like porn!). But if I can drop some brand names, I love my Sennhesier and Neumanns. The other tool I can't be without is the Izotope RX suite, especially the de-clicker to help tame those mouth noises and breath suppression module."
If you love you work, you'll get some love back…
"I enjoy that everyone is in a constant state of learning and improving and there's not a single voiceover talent I've met, communicated with, or heard of that is stingy with their time and advice. It's the most symbiotic group of individuals I've ever worked with who cheer each other on and celebrate each other's successes.
"The Voice Realm has brought amazing opportunities to all of its voiceover talent, myself included. It's the first platform I've experienced that cares about providing the best for both its clients and its talent. I really appreciate that attitude, especially since there are other platforms that seem to build profits on the backs of the very people whose talents are its commodity. Thank you The Voice Realm for treating your talents with respect!"
The Voice Realm is definitely proud to have Paul Nixon as part of the family. Despite his soaring career, Paul remains rooted and humble – great qualities to have to ensure continued success in the voice over industry.
---
Get to know Paul more by listening to some of his work at The Voice Realm.