Marcela Loria: Female Voice Artist with The Voice Realm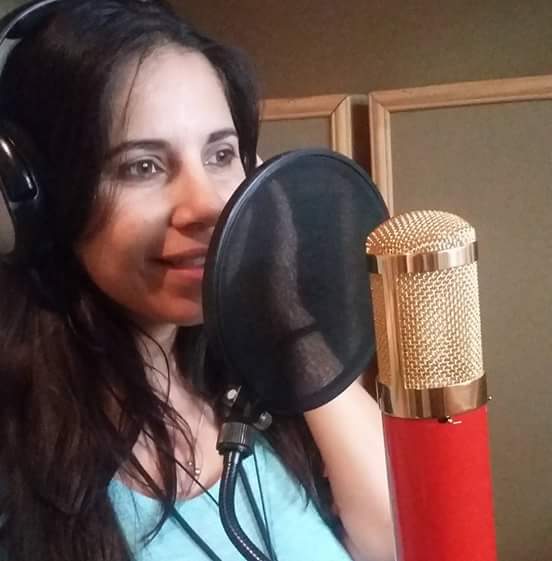 Marcela is one of The Voice Realm's English and Spanish speaking voice over talents and translator. She has recently become the Spanish voice in one of the largest real estate companies that operate globally.
Marcela was born in Costa Rica, Central America. Perhaps the path to becoming a voice over artist started when she was six years old where she went to an artistic school and fell in love with scenic arts. She narrates that she loved her drama classes and even got a degree in dramatic arts. As we know, there is a lot of acting and drama involved in being a voice over artist so this was certainly to Marcela's advantage.
Her path veered a little, because when she went to off to University, she wanted to study advertising design. "If you ask me now, I have no idea why," she quips but then she didn't pass the tests to enter into that field of study. She remembers she was very disappointed, and decided to study Communications although she didn't think it would be as fun. So she went to radio and when she started with the radio subject, it was love at first sight with the microphone. Marcela then earned her bachelor's degree in Communication Science and started working as a journalist.
When she was 22 years old, her father saw an ad at the newspaper looking for a DJ at a new radio station for teenagers and she decided to go try. There were about 150 people trying to get the job, she recalls. She was one of the seven people who made it in. Approximately six months after that, she was given prime time, and she worked from one to five in the afternoon, just when kids get out of school. One year later, she received this phone call from McCann Erickson asking her: "Do you record commercials?"
She said: "No, I have never done that but I can try".  That was the blossoming of her career.  Marcela's first commercial was for Levi's back in 1998.  That was also when she became a voice over artist.  Since then, she has worked with the most important advertising agencies in Costa Rica and her voice has been used to represent important brands in Central America, Republica Dominicana, Panama, Peru, Colombia, Mexico and the US, such as McDonald's, Payless Shoe Source, Mattel, Kotex, Pops, Coca Cola, Smirnoff, Nestle, Colgate, Scotiabank, Avon, Mitsubishi, Dannon, American Airlines, Nokia, Splenda, Kraft, Mastercard, Hooters, to name a few. She also had the opportunity to work in Mexico as a dubbing actress and currently also offers translation services from English to Spanish. She is now going global with The Voice Realm.
When asked about her home studio, Marcela says, "I have had my own studio since 2011 and I offer a real 24-bits audio."
We asked as well what she considered her most challenging voice over job and she said, "The most challenging job is at the same time the best I have done, I guess. It was back in 2014, and it was an e-learning course for Pfizer employees. I had to give voice 6 or 7 characters, not including the corporative voice (which I also did). To study the faces and choose the best voice for each one of them, and to try to keep that voice when I had to interact with the rest of characters (which I also gave voice to) was very very challenging and of course, rewarding. This course was about 1 hour and 20 minutes in length, all recorded by me."
Finally we asked her what tips she could give to new voice over talents starting out in the industry. "My tip would be: When you have this gift, this talent, the only thing you have to do is to work hard to get into the business. The rest is already there, in your vocal chords. For those who have the talent, this job is about your mind controlling your vocal chords just like puppets, you just have to practice hard to discover all the possibilities of your voice. Also, work with passion and be happy. Clients like to work with nice people, if you have to record 3 words a million times, do it happy. It is great to work in a cool atmosphere, so the work can be done smoothly."
One of the best advise from a successful voice over talent – most of the time, especially with veterans, the industry is inundated with gripes and to have a positive outlook can be a challenge or you don't hear too much of that going around.  Was there ever a time a job wasn't that great but you forged ahead to create a happy atmosphere so you could get it done right?