More Facts On The Video Gaming Industry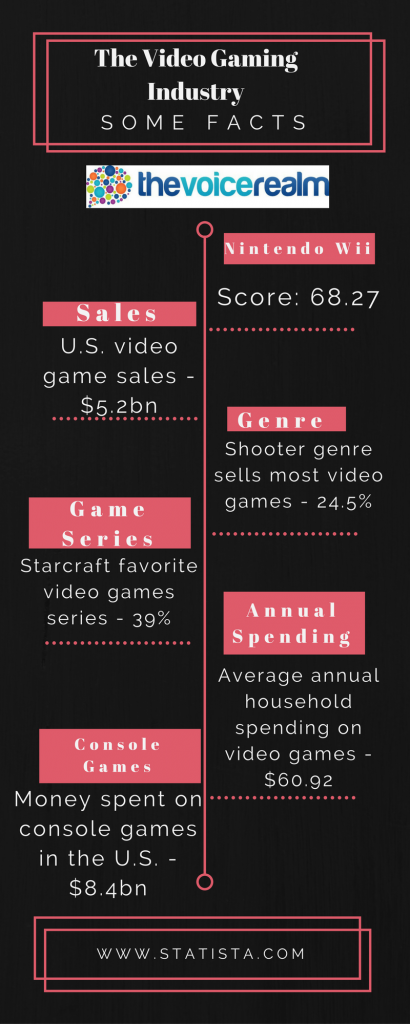 In getting to know more about the video gaming industry, we will be taking a look at some statistics associated with it.  The statistics above simply refer to the United States and not the globe.  
Voice actors who perform voice overs for the video game industry and the SAG-AFTRA union are still on strike with some of the largest video gaming companies.  We know that secrecy is one of the utmost things the video game industry takes seriously.  It is essential to them to keep the idea and the development stage until launch a secret.  Most of the time, voice actors don't even know which game they are performing voice overs overs for.  
While we are talking about billions and billions of dollars, not all video games make it to that status after launch, it's hard fact and also probably the reason why rates for video game voice overs are they way they are.  However, when they do make it, those who worked on the idea are left with a rate that does not give any credit to the artists contributions, voice actors included.
The first statistic shows that Nintendo Wii received the most favorable ratings as the leading gaming platform brands in the United States in 2012.  This is by brand equity and was rated by customers.  
The second statistic tells us that video game sales in the United States in 2015 amounted to $5.2 billion.  Other game formats such as social and mobile games amounted to $11.2 billion dollars.  Total sales of computer and video games in the U.S. in 2015 amounted to a whopping $16.5 billion.
The third statistic tells us that the shooter video game genre dominated sales at 24.5% in 2015 with the action game genre behind it at 22.9% and the sports games genre on third with 13.2%.  It's not surprising as a lot of castings and hires made through our site are geared towards the shooter and action video games.
As far as favorite video games go, they too are patterned to the third statistic.  Starcraft is the dominant video game at 39% at least as of 2011 where gamers get to kill monsters.  Call of Duty followed with 19%, yet another shooter games with lots of action, too.  Voice overs for these games require a lot of roaring, grunting and alien talk for the alien monsters in Starcraft plus a lot of screaming and shouting for both.  Legend of Zelda followed close at 17% to Call of Duty.
From 2011 to 2015, the average annual expenditure per household in the United States for video game software is at $60.95 with video gamers, action, shooter and sport games ranking top three among the genres.   Money spent on console and computer games by gamers in the United States from 2011 to 2012 amounted to $8.4bn.  
Let's take a look at one of the new and upcoming games, Tales of Berseria.  This game from Bandai Namco has already been released in Japan for PS3 and PS4, has gotten a British voice over and is scheduled to be released in North America by January 27, 2017.  When it released in August, from the 250,000 units delivered to Japan, according to siliconera.com, the game sold 249,723 units.  The game is featured on Amazon Japan with 4.5 out 5 stars as of August.  It currently sells at $50.75 on sale from $59.99.  From the 250,000 units alone, the game stood to sell them all at $12.6 million dollars on sale price, assuming they were all sold on sale.  
The video game industry is said to be one of those unkind to their employees – from there programs, designers and voice actors.  Perhaps not all video games make it to millions, billions of dollars but when they do – do those people who have contributed to their success get rewarded, too?