Voice Over Full BuyOut VS Residuals: Which is better?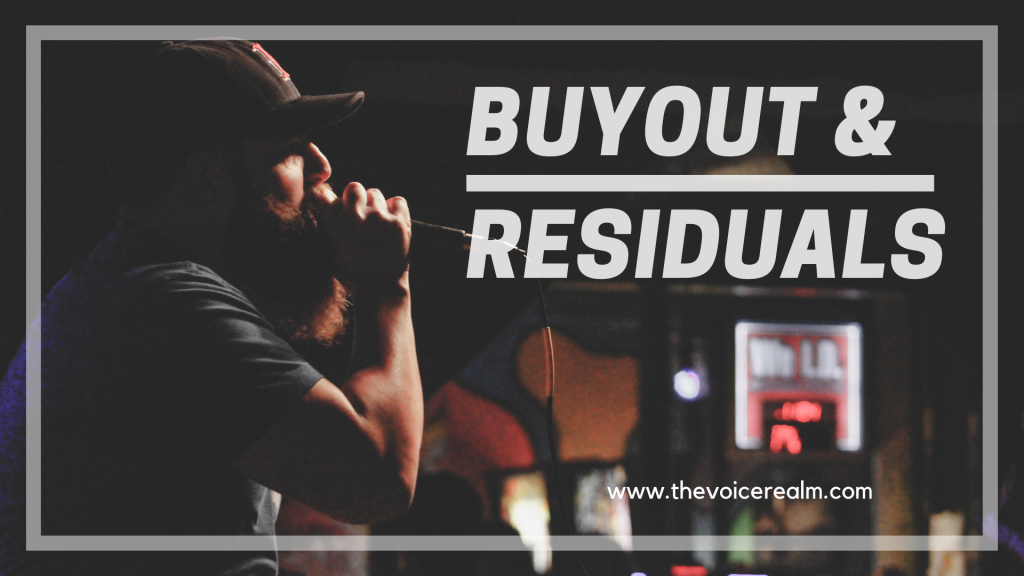 This debate will essentially boil down to whether a voice actor opt to belong to a union or prefer to be an independent voice over worker. And the answer to which the better option is, is often opposing to the clients and vice versa.
Generally, full buyout applies to non-union voice-over work, while residuals are granted to unionized voice actors.
What are residuals?
Residuals are additional compensation for a commercial, above and beyond the initial payment, based on the number of times a spot is run. They are often royalties that are paid to voice actors when clients renew the contract to have their voice over product extended to be aired. This residual payment is done on top of the session fee or base payment.
Residuals are calculated and administered by industry trade unions like SAG-AFTRA, the Directors Guild of America, and the Writers Guild of America. They are paid to actors every 13 weeks and occur only in SAG or AFTRA (Union) commercials.
To voice actors, residuals are totally in their favor. However, they can only enjoy the benefit only if they belong to a union.
To clients, although residuals can be a good option for them by not having to pay for a whole new project, having to pay a residual can sometimes be an ordeal if the reason is they run short of anticipating the boom of the project. They could've chosen to go for the full buyout to save in the long run and get rid of the exhausting process of having to go back and forth to the talent every now and then they have to renew the contract.
If the client purchases the commercial or broadcast rights for a project with a voice over artist, they will also agree on how long the rights of usage last. Anywhere from 12 weeks to 1-2 years is typical.
For example, a client purchases the broadcast rights to use the voice over recording in a local TV commercial and agrees that the spot won't run for longer than 6 months. But, after 6 months they realize the ad is doing really well and it's helping them find lots of new business. Nizagara http://www.pharmacynewbritain.com/nizagara/
They may have saved on having to produce a brand new ad which would cost more money, but remember that full buy-out is the best option for this, giving them a perpetual right to make full use of the voice over product wherever and whenever.
In this case, they would have to renew the rights to run the spot again and it will cost them residual fees to the voice actor. So, they go back to the voice actor and say "Hey, the ad increased our sales and want to keep it running for 6 months more", and there it gets extended.
Full Buyout Fee for Voiceovers
While some voice actors are paid residual fees, majority are compensated through a one-time buyout fee. Buyout generally applies to non-union voice over work. A full buyout is a one time payment from the client to the voice actor to have usage rights in perpetuity.
So to non-union voice actors, it is normal to feel that full buyout is unfair and unjustifiable because they do not take any earnings even if their voice over is continually being used. The voice over recording becomes client's property and once actors are paid in full for the work, they won't make money from that voice-over recording again.
Yet, they have no choice but to sell their voiceover product for a permanent usage especially if they are just for internal usage.
The ultimate downside of a buyout to voice actors is that they won't be expecting any residual compensation even if the client use their recording several times after its initial run.
But there are many things actors can do to ensure they get paid well.
How do I make the most of buyout fees?
First, you have to discuss everything with your client — from the basic session rate to any factor that may determine additional charges. The client may propose a budget or you may provide them with your quotation on specific projects. Levitra online http://kendallpharmacy.com/levitra.html
Second, you may negotiate. Sometimes, a negotiation will help in determining a fair rate. The rate, moreover, may vary from one project to another. Commercial works can fetch up to a thousand dollars, while narration projects may be paid by the hour.
Whichever kind of voice over work you do, you have to know which rate works for you and your client. Billing a very minimal amount may make it difficult to demand higher fees in the future. If you quote an expensive fee, you are essentially building yourself to be a serious player in the industry. But if this goes any higher, you may end up losing, rather than earning, new clients.
Yes, a buyout fee can be an excellent option if you are a non-union voice actor. However, the more crucial thing to factor in is the amount you will allow for a buyout. Make sure you don't sell your services for too low or too high.