Professional Voice Talent All In One Place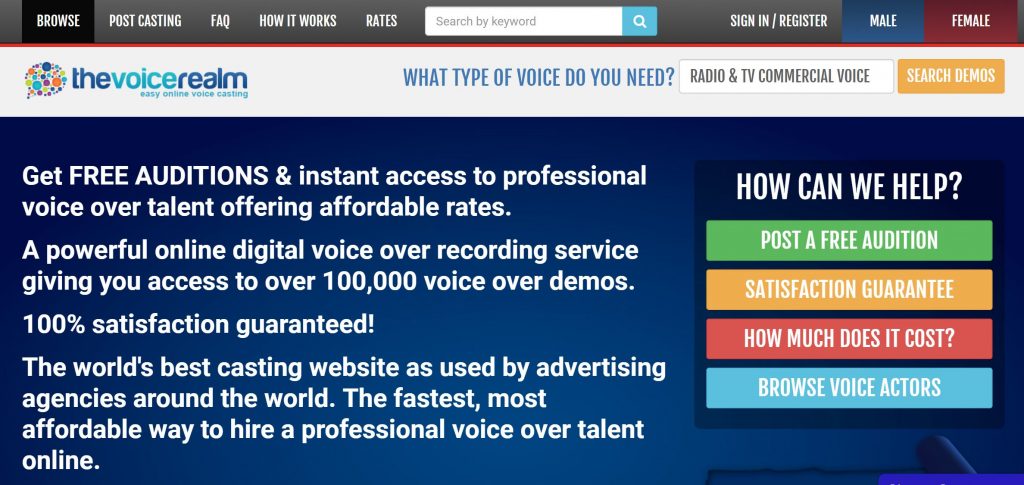 With the New Year upon us, many professional voice talent start to prepare their marketing plans, looking for fresh avenues to find new clients and let go of things that are not working for them or costing too much.
Perhaps it's finding a new agent, investing in advertising, cold calling businesses or getting involved more with social media.
With more and more voice talent moving online, the fight to get noticed is becoming increasingly harder.
Before investing your marketing dollars into any one site, you need to ask yourself some valid questions.
Here's a few to start:
Does the site accept anyone with an email address and willing to pay a fee?
Could my gardener who has never stepped in a studio ever before, make a profile tonight and then be auditioning tomorrow?
Does the site ask me to sent clients to them in return for commission? (affiliate marketing)
Does the site encourage beginners to learn by auditioning?
Can other voice talent present clients with rates that undercut me?
Do they boast to clients about the number of voice talent on the site, rather than the quality?
Am I limited by how many auditions I can submit for?
Is a big part of their focus selling subscriptions? (Do they offer affiliate marketing?)
Would the site negotiate higher fees on your behalf for exclusivity?
All of the above are questions which you should consider before making any decision about where to place your profile online.
The Voice Realm is a casting website which only lists voice talent that have been pre-screened and accepted as industry professionals. Criteria that must be met includes the ability to follow direction, years of experience, previous clients, quality of demo's, and studio sound quality.
The site respects professional voice talent by utilizing set rates and no limit on the amount of auditions. The site does not promote itself to beginners and generally only accepts three out of ten applications to be listed.
You can see voice talent Randye, who scored a lucrative ongoing radio imaging contract with a radio station in Las Vegas. The Voice Realm negotiated extra money for exclusivity. Would the casting site you're currently on do that?
See a list of talent recently booking voice over jobs through The Voice Realm.
The Voice Realm continues to raise the level of professionalism through online voice castings into 2013.
A voice over website that ONLY lists professional voice talent; it's really a no-brainer!