Why Choose The Voice Realm This 2020?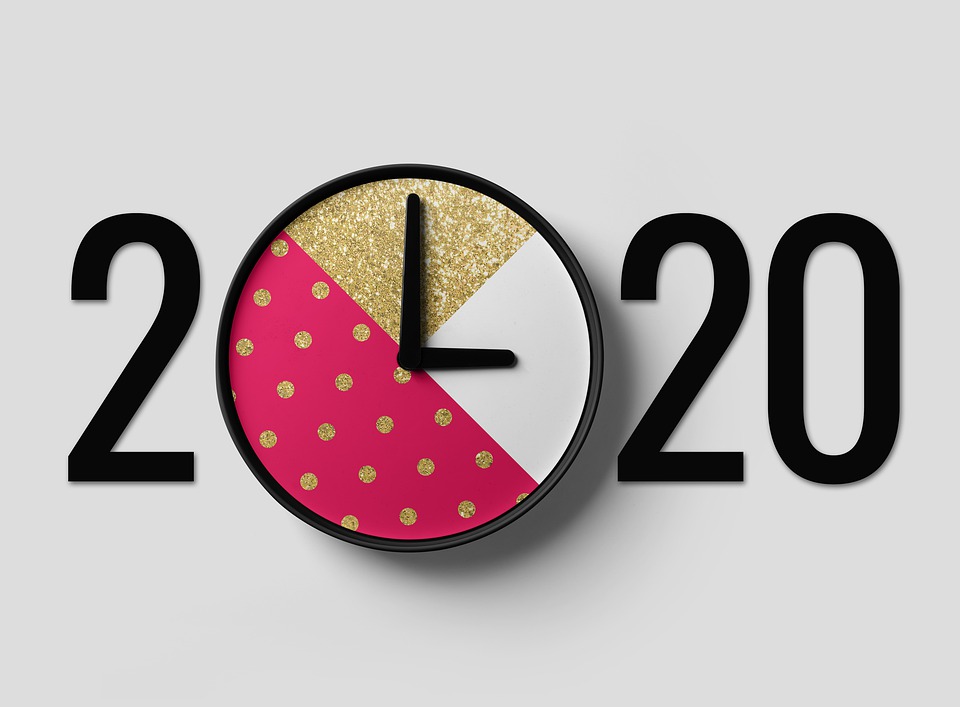 It is a new year. There are a lot of things to look forward to. All of us have our new year's resolutions, we have new goals! 2019 was a tough year, but here we are, we survived. We may have some unaccomplished  goals last 2019, but it does not mean that we should say goodbye to those dreams.  Setbacks should not hinder you from accomplishing your goals, instead, it should serve as an inspiration for you to work even harder.
The voice over industry is becoming more popular, thus, making the competition tougher. The competition amongst voice over talents, and websites that offer services to VO actors, is very tight. The technological advances made it possible for more people to get into the business. Life has always been the survival of the fittest, so in order to survive, one has to keep moving forward. 
Over the past years, The Voice Realm has been doing great in competing with major businesses that offer services for voiceover talents, and clients alike. There are several websites that have established their brands even before TVR came into being, but we knew just what to do, so we were able to accept the challenge, and we fight them head on. After several years of hard work, it is safe to say that our voice has been heard! The Voice Realm welcomes 2020 with a lot of enthusiasm and excitement. Several positive reviews about our service have been left everywhere. We were even given a review over a live stream! (Nope, we did not pay for it!) 
Are you a newbie who's looking for people to help you start your voiceover acting career? Are you a professional voice over talent looking for another set of people to work with? These reviews might help you choose your next VO family, The Voice Realm. These reviews will make you realize how important asking for a feedback is. Reviews are good for you!
What do people think about The Voice Realm?
About a month ago, Anthony Pica of A Vo's Journey, live streamed about TVR in his Youtube channel. The reason why he did this, according to him is because "a lot of people are asking me about it." (We jumped like a kid upon knowing that people have been asking about us. We felt very happy. Yay!) He made a very honest review about The Voice Realm.
Pica highlighted about how different our service is amongst other pay to play websites. Specifically about how selective TVR is. Anthony gave emphasis as to how our site is very particular with choosing people to work with. Also, he was very glad on sharing how amazing the opportunities are given to voice actors that are subscribed to the website. For example, he explained how TVR gives everyone the chance to send an audition before giving the job opportunity to somebody else. He compared it to his "benchmark" sites that close auditions abruptly, making voice actors miss a job opportunity. He explained how our site is not a first come, first serve basis. Anthony also felt safe with our website because we do not let our talents give out their personal information to third party websites.
He shared experience about how he is very excited for the website. He also shared a lot of his personal experiences. So far, the customer service that he's been experiencing, is fantastic! He talks about how fast he got paid, and how he's been consistently getting jobs with TVR. 
"I think in my opinion, based off the work I've gotten, I think The Voice Realm is a good pay to play for the price." Anthony thinks that the $250 subscription is very much worth it. He was very vocal about comparing his experience with TVR and other sites he's worked with. He also went talking about how easy it is to navigate our website. Easy to say that he is a very satisfied customer. Plus plus plus points, right?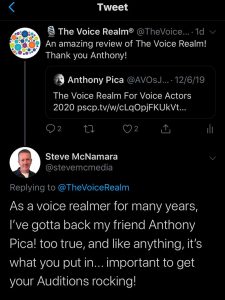 Besides Anthony Pica, a lot of voice actors have expressed their joy of working with us. Steve McNamara is one of those actors. He called himself a Realmer, backed his friend Anthony on his tweet about TVR.
On other social media platforms, and websites, The Voice Realm was given 5 stars, and very positive reviews. Both voice over talents and clients expressed their gratitude for the amazing service that they have experienced, and have been experiencing.
Here are some reviews from trustpilot.com: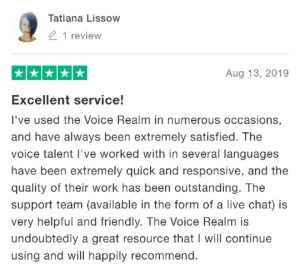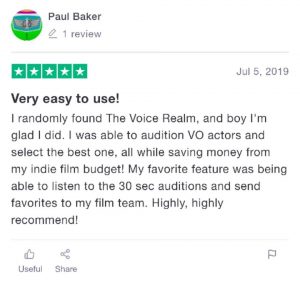 We have also been recommended by a lot of people on our Facebook page!
Why choose The Voice Realm?
Based on the reviews, it is safe to say that you can put your trust on our website. TVR is true to its word since day 1, "We take that burden off of the client and base our reputation on connecting you with the most professional voice talent in the business." The Voice Realm takes care of its brand, in this case,  voiceover talents, and clients. We have been doing our best to give outstanding services for the people in the voice over industry. Even though we are now getting a lot of positive reviews, we will not stop improving our services. Bad reviews, if there's any, will not hinder us from doing what we do. Instead, we will use them as an inspiration to do better. You should do the same too!
The year has changed, but our devotion to bringing a professional and passionate service to The Voice Realmers stays, and will stay forever. Be a gem on our realm! Looking forward to another year of a wonderful working experience with you people. 2020 will be our year. Cheers to another fruitful year! Happy new year from The Voice Realm!
Share to us your experiences with our website!